Do you always have so many plans and good intentions in your head? If you look back afterwards, it appears that time has slipped away and that many things have not happened.
Unnoticed, running the daily tasks and just the day-to-day life that you are distracted from the things you really want to achieve.
The new year is pre-eminently a time to make many plans and good intentions. It is a moment to bring clarity to your life and to renew your personal and business goals.
But even if you have the best intentions, it is often so difficult to keep the focus on those predetermined plans and goals.
Back to pen and paper
For me, I have gained a lot more control over my personal and business goals for the last six months. Strangely enough it was a return to pen and paper that meant a turning point for me, the digital nerd that I am.
Ever since I started using the Full Focus Planner from Michael Hyatt, I finally have the feeling that I have got my ideas and available time back.
Plans that have been wandering in my head for months / years are finally being implemented. Focus is the word that matters. Know where you want to go and what you are doing every day.
Full Focus Planner from Michael Hyatt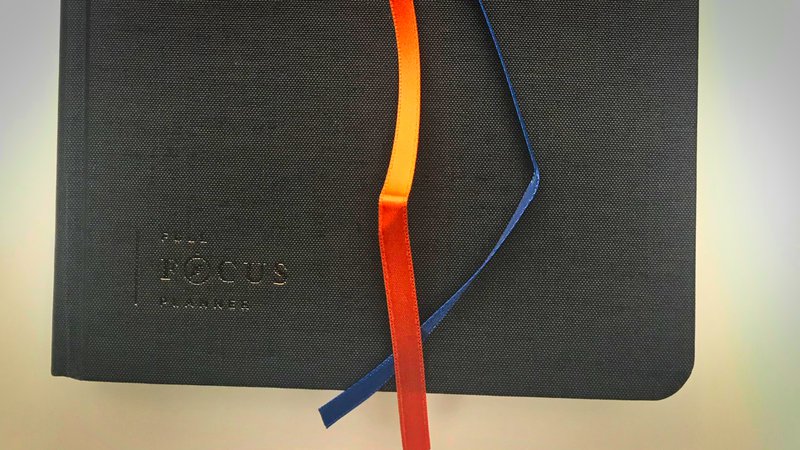 The Full Focus Planner describes itself as a way to connect your daily tasks with your larger goals.
It is more than a paper notebook, there is a whole strategy behind this planner.
The purpose of my article is to quote a number of key points from the planner.
You will not find a user manual here. There is more than enough on this website online. With purchase you even get access to a complete video series that explains everything from strategy to day-to-day use.
Not only for business purposes
Your predefined tasks and goals can be in all kinds of domains: you can work on your health, you can do something extra, you want to make more money, you are looking for deeper family ties ...
The system behind this planner makes it possible to set and achieve these goals in all the facets of your life.
The annual goals and details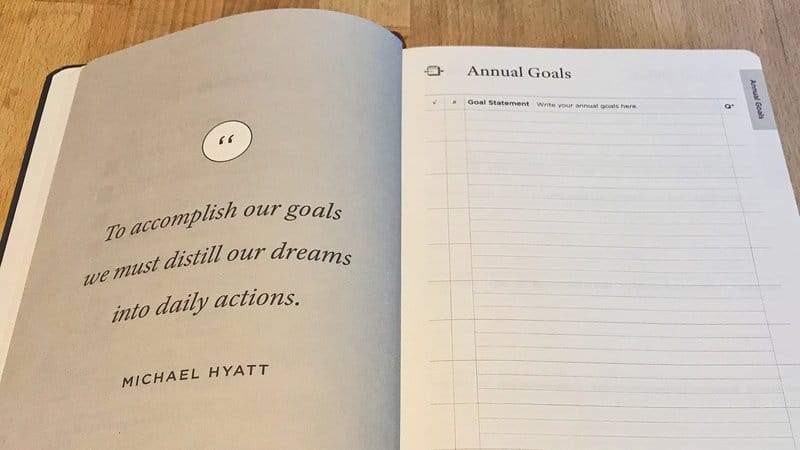 Everyone knows that the start of a new year is the perfect time to reflect and to forge new plans.
The first part of the FFP (Full Focus Planner) focuses on this larger picture: which goals do you want to realize in the coming year.
For each goal you get a complete page in the planner where you have to clearly define the goal, the domain, the why.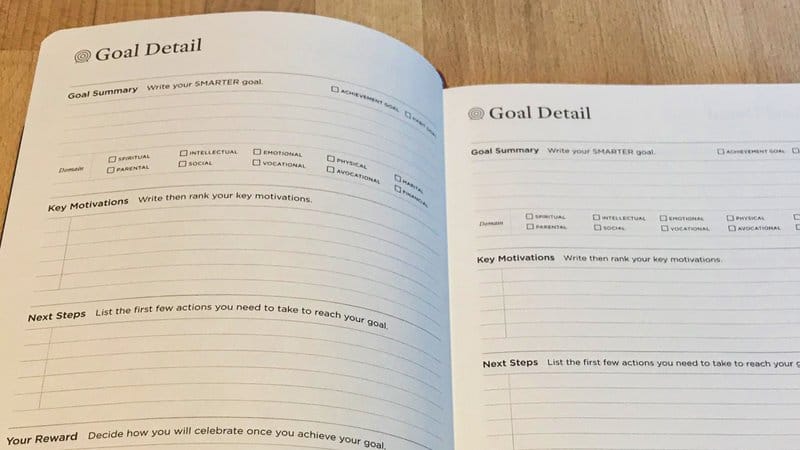 According to the planner, a good cause must meet 7 criteria:
Be specific: you are not going to study photography, but you are going to follow that specific online photography course from Jean Green.
Measurable: express your goal in euros, number of times etc ... You do not want to earn 'more' money. You want to earn 10,000 euros more than last year.
Action-oriented: You're not just going to blog anymore. You will write 2 blog posts every week.
Risky: make sure your goal is out of the comfort zone. Make sure that it is something that you have to stand for on the pedals.
Time-bound: You will not lose 10 kg. You will lose 10 kg for example 30 June 2019.
Exciting and attractive: make sure the goal makes you warm and challenges you. You must feel like taking the action.
Relevant for your specific life situation: As a mother / father of small children, your goal can not be to do an hour of work-out in the morning. In many cases that is simply not feasible.
By setting the full year for yourself in this way, your goals really start to take shape.
Rolling quarters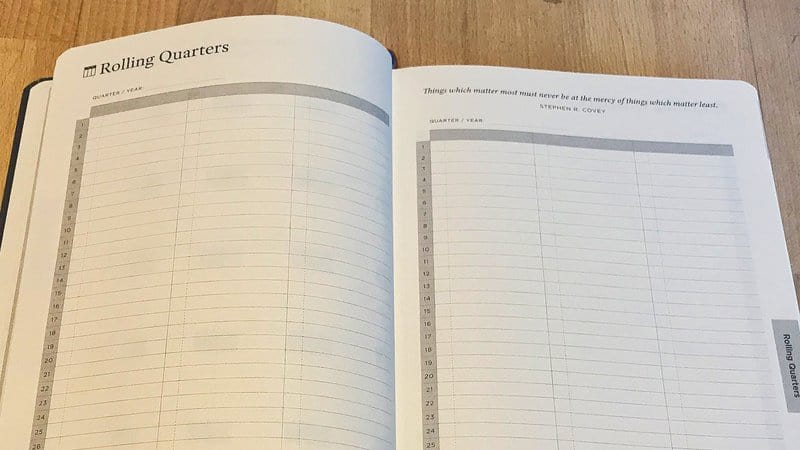 Each FFP is large enough for one quarter. On these pages it is the intention that you make a high-level overview on how you will organize the quarter to make all your plans realizable.
Only the big, important agreements and goals are given a place in this rolling quarter.
You will see as you use the planner every day that you regularly look back at this bigger picture. This way you can see if you are still planning or maybe need to adjust things.
Daily rituals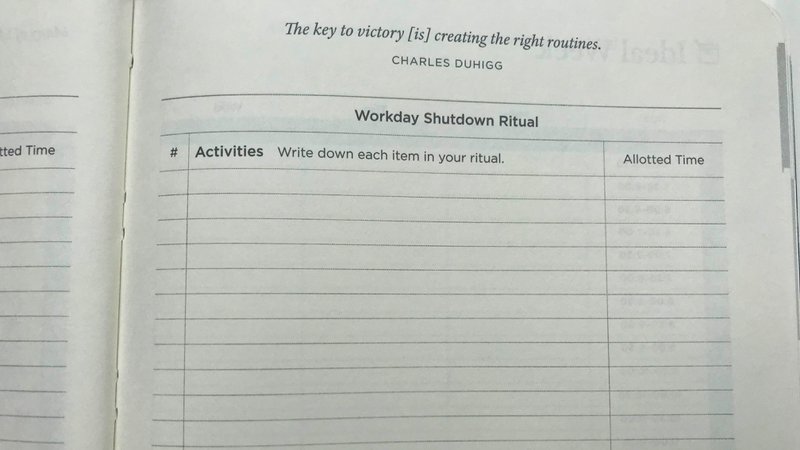 Everyone has his rituals such as in the morning when they get up: brushing teeth, taking a shower, making coffee, relaxing, reading the paper, etc ...
Those rituals run automatically. You do not think about it in the long run. And that is exactly where the power lies.
What if you can now consciously deal with such rituals. What if you add things to your ritual that can really make a difference in your life.
Some examples. Healthier living? Add a good walk to your morning ritual. Better handling e-mail? Start and finish every working day with emptying your inbox.
The FFP has provided a section in which you can think about these rituals and be aware of them. A section is provided for the morning ritual, the start of the working day, the end of the working day and the evening ritual.
Ideal week
In this section you plan your 'ideal' week. How would you like to organize your week so that everything that is needed can be discussed.
In practice, your weeks will rarely expire like your ideal week. But by being aware of it you also create clarity here again and it gives you a calmer feeling.
The ideal week runs according to 3 themes:
Frontstage Time - in which you do what you are paid for: running your store, building the website, taking care of your clients' accounts etc ...
Backstage Time - in which you actually prepare to fill in your frontstage time as well and expertly as possible: mailing, studying, looking up things, putting your computer in order, ...
Offstage Time - resting, having fun, eating out, relationships. Offstage time is for when you are not working. Even with this time you can be deliberately busy.
The weekly prospect
You have to do two main things every week:
Reflect on the past week: what are your biggest wins, how far have you been hit with your weekly goals, what worked / what did not work, what do you want to adjust.
Plans for the coming week: what are the big events, what appointments do you have on the calendar, what are the 3 big tasks / goals you want to achieve.
The guideline for the coming week is the 3 major tasks / goals that you have to set up for yourself. These are the steps you need to take to achieve your larger goals and projects.
The daily pages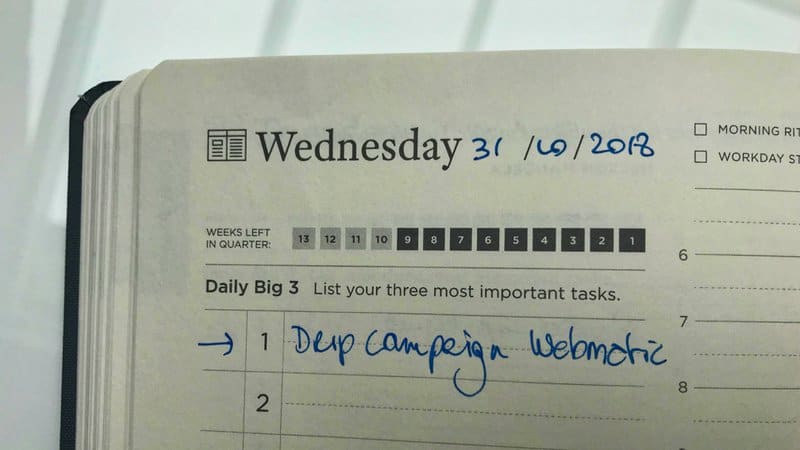 You write down the 3 most important tasks for yourself every day. The intention is that these 3 tasks will be the common thread throughout your day.
In separate sections you write the other peripheral tasks and appointments you have raised.
In this way you have a clear plan and guideline every day to consciously get through your day.
Erasable pen

A good tip is to write an erasable pen when working with the Full Focus Planner. That way you can easily adjust things without making an ugly coloring book from your planner.
If you are like me, you are no longer used to writing a lot with paper and pen. Before I know it I have written something wrong again in one way or another. I like that I can immediately correct it with such a erasable pen.
Conclusion
If you also feel that life sometimes slips past you; If you want to have more control over your goals and plans yourself; If you really want to achieve the things that you consider important!
Then consider this Full Focus Planner planner. I can honestly say that it has really changed me in all kinds of domains of my life.
Clearly know where you want to go. Be aware of your goals. That does not make life more complicated or even busier for me. No, for me it gives peace and clarity.
This year is my most productive year ever #fullfocusplanner
Click To Tweet
There are many planners on the market that claim to do the same. I can not judge how good the other planners are and whether they live up to their promises. I can judge about this specific planner.
The Full Focus Planner is brought to market by Michael Hyatt. It is not cheap, but if you are looking around you will certainly find nice offers. Especially now with the end of the year in sight: the time par excellence to purchase such a planner.
If you want more tips to get a better control over your life, then you should also listen to it Lead To Win, the weekly podcast of Michael Hyatt. His new book 'Your Best Year Ever' is also full of interesting information, especially with the new year in prospect.
Do you have good tips to finally make work of your goals in life? Do you perhaps use another planner that you are very satisfied with? Do you just want to lose your opinion? Which can. Under this article you have the forum to let your ideas and thoughts be heard.