Based on several findings, a recent Brightlocal study clearly shows that getting Google reviews can help you to get ahead in the search results.
As a local company, it is important to focus on this. Higher rankings in the search results mean more visitors and therefore more potential customers.
Google My Business
Google offers the possibility to give companies a star rating and corresponding. You must be registered with Google My Business for this.
earlier we wrote a bit more extensively about Google My company and why it is important to register for this as a local company.
Tips
Before I tell you more about this study, I will give you some tips to make the collection of Google reviews easier.
Dare to ask a review to your customers. Do not expect reviews to emerge spontaneously.
Do not post a review from your locationor, for example, via your telephone or computer. After all, it seems that Google uses algorithms that prevent possible manipulation of the reviews. The reviews may appear online, but Google will simply value it less.
Make it easy to give a review for your customers. So keep the direct link for giving a Google review for your company at hand. So even after every sale you can work out a process that automatically sends your customers an email with the question for a review. A direct link is very useful and you will only get more reviews. Here you can find more info for creating your personal direct link.
Place one clear link or button to your Google reviews on all your social media, in the signature of your e-mails etc ...
Google Map Pack
More Google reviews provide greater visibility in the so-called Google Map Pack. This Google Map pack is actually the card that shows the search results from the neighborhood. It is always shown at the top of the search results.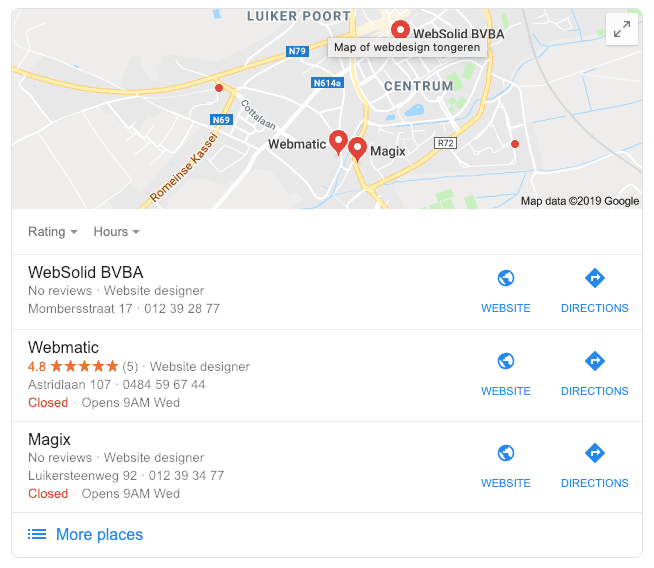 It goes without saying that if you are clearly present as a company, it will only increase your online visibility. You are clearly present at these results if you:
have a visible star rating
you are at the first 3 results (for more results you have to click through)
The 'Google reviews Study' from Brightlocal
The study clearly shows the importance of Google reviews for a local company.
Keep in mind that the study is mainly focused on companies from the United States, Canada and Australia. The market is many times bigger there.
We look at the trends that these figures show us.
Local companies ranked among the top 3 tendrils have an average of 47 Google reviews. The average in Flanders will probably be a bit lower. Yet it is clear that to rank in the top 3 of the Google Map Pack you can really take care of some reviews.
Companies on positions 7 to 10 have an average of 38 reviews. 9 less than the number of reviews for the top positions. The more reviews, the more likely to score higher.
It is more likely that the highest ranking companies in the search results have a higher rating than lower-rank companies. The number of stars you get seems to play a clear role for Google in determining your ranking in the search results.
On average, local companies have a rating of 4.42 out of 5. It therefore seems that companies receive positive ratings rather than negative ones. In other words, you should not be too frightened to ask for a review. Unless you know that your service was below average 🙂
5% of companies have a star rating of less than 3.
20% of the companies that appear in the top 3 search results of the Map Pack did not receive any Google reviewsn. So let's make it clear that Google reviews is just one factor that determines the online value of your business for Google.
More background information and other findings can be found in the study by Brightlocal self.
The text is written in English. But if that is not a problem, I can only recommend you to go through these and more findings in the original article.
Brightlocal shows that more Google reviews and more stars provide an average higher ranking in the search results #GoogleReviews #seo
Click To Tweet
Create a link for your customers to let them easily write a Google review
Make sure that you always have your personal link to your Google reviews at hand. This way you can easily ask your customers for a review via e-mail, for example.
You use the Google best PlaceID Lookup Tool. You will then receive your personal URL by pasting your PlaceID from your company to the following URL.
https: // https: //search.google.com/local/writereview? placeid =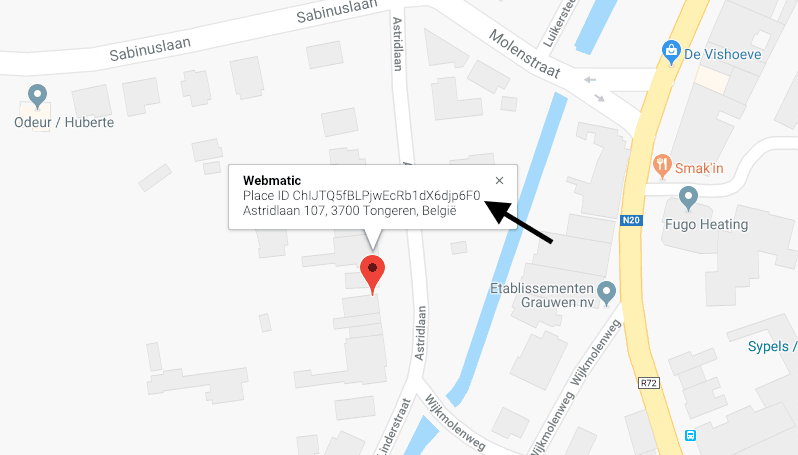 For Webmatic this gives the following result:
url for Webmatic: https://search.google.com/local/writereview?placeid=ChIJTQ5fBLPjwEcRb1dX6djp6F0

The Brightlocal study clearly shows that getting / getting Google reviews can add value to the ranking of your search results.
Of course we all want to rank higher in these results. After all, a higher ranking means more visitors and more customers.
So you already know what you can work on in the coming period.
Do you have experience in obtaining Google reviews? Good tips maybe that make the process easier?
Let it be heard here below.