Your WordPress website is ready and now it's time to choose a good hosting. There are a lot of offers to choose from.
In this article we try to sketch a picture of the possibilities for your WordPress website. In particular, we compare the so-called shared hosting with the more and more popular managed WordPress hosting.
If you want to be successful online, choose a solid, stable and fast hosting
Google and other search engines see the loading speed as one of many factors that put your website higher / lower in the search results. A faster loaded website means a higher ranking in the search results.
A faster loaded website also means fewer visitors who click away and less clicking visitors is a positive signal for the search engines.
Do not make yourself wise, for example with a webshop that is loaded in 6 seconds you will never break pots.
Shared or Managed: where is the difference?
Shared hosting is a type of hosting that refers to the fact that you with multiple websites on 1 server placed. You share, as it were, the available resources of this server with ten to even hundreds of other websites.
Managed WordPress hosting is about one additional package offered on top of the hosting, which may or may not be shared: updates, extra security, caching etc ...
You can also manage managed WordPress hosting different price ranges find. From cheap with a limited extra package on top of a fully pushed shared hosting to a slightly more expensive hosting on a finely tuned personal VPS server.
In itself, the comparison between shared and managed hosting is a bit of a wrong comparison. Yet you often see that in the ordinary world there is a clear difference between a 'cheap' shared and a 'more expensive' managed hosting. This is because managed WordPress hosting often has a large package of typical extras that the average shared hosting does not have.
Shared Hosting (Shared Hosting)
Shared (or shared) hosting is the cheapest. Shared, you share the resources with others. In general you can say that the more websites are placed together on one server, the cheaper your hosting will be.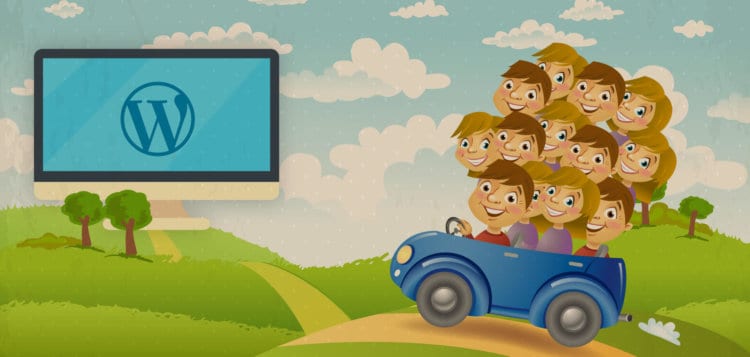 By sitting with several websites on one server you get a phenomenon that they are Bad neighbor effect:
If one of the many websites on your server takes up a lot of resources (resources) it can affect all other websites on the same server. There is little that a cheap hosting provider will do in practice.
In theory, your website has defined maximum resources on a shared hosting. But in practice one can not guarantee that your website never consumes more than the allocated resources.
What can be done if your website suddenly receives a lot more visitors? What can be done if another website sends e-mails to an old list of 3000 contacts (spam)? So the theory is beautiful, the practice is really different.
Together on a server means all together the same IP address. This is your address on the internet. If someone starts to misbehave at the same IP address, this IP address will end up on blacklists. Even if you do everything as it should, your website will also be on that black list in that case.
Shared hosting focuses on all possible websites. Not only WordPress should run well, but also Joomla, Opencart, Drupal, etc ... So it's actually a bit optimized for everything. Your WordPress website will never achieve its real potential on such a hosting.
Most shared hostings fall into the cheaper segment. If you all crawl in one car to drive on the internet highway, you also understand that you will often dangle behind this caravan.
Shared (shared) hosting: If you all crawl in one car to drive on the internet highway, you also understand that you will often dangle behind the caravan. #wordpress #sharedhosting
Click To Tweet
Who is the shared hosting for?
For everyone with a limited budget
for non-critical hobby websites
maybe even for a simple naming card website from a small company.
If you really want to be successful online, you will have to invest something extra in your hosting.
Not only does an unstable and lower loading speed result in the loss of impatient potential customers, the search engines also tend to lower your ranking in search results. The search engines take hundreds of factors into account when setting their ranking, and loading speed and stability is an important factor in this.
Managed WordPress Hosting
As previously mentioned, WordPress hosting essentially manages a package with extra functionality and support on top of a normal hosting package. A managed WordPress hosting can also be a shared hosting package behind.
You can also find managed WordPress hosting in all price ranges. In this article we specifically focus on quality premium WordPress hosting, such as for example WP Engine or Webmatic who offer.
Optimized for speed
This is a hosting that only WordPress instances run on. Everything is technically optimized for the fast and stable running of WordPress websites.
Results that we see in our Webmatic hosting are loading speeds that improve from 6+ seconds to 1 second. This happens in many cases only by simply moving the website to our managed WordPress hosting.
You should know that the loading speed has a direct influence on the potential and bottomline of your website.

According to a study done by Akamai and Gomez.com approximately 50% of web users expect a website to be loaded in 2 seconds or less. Those same users start to leave a website when it takes longer than 3 seconds.
"2 seconds is the threshold for ecommerce website acceptability. At Google, we aim for under a half second. " Maile Ohye, working for Google
Not only for your visitors, everything will load faster, even for yourself in the backend you will experience a clear speed gain. Done with waiting for the spin wheel when creating new blog posts, when adjusting the price of a product etc ...
Increased security
Managed WordPress hosting helps you to secure your website through specialized security at server level and at software level.
Although it can never be excluded, with a Managed WordPress hosting you can drastically reduce the chance of intruders and hackers.
Automatic Backups
Do you know that story that you will only take backups of your data after something serious has gone wrong? With good luck you may have recovered some of the data and you do not lose too many files.
Why actually wait for an accident that almost everyone experiences at least once in their digital life?
Making backups is not an exclusive offer of managed WordPress hosting, but this type of hosting is usually standard in the package. Possibilities such as real-time backup, useful for not losing orders in your web store, are often possible options that you can take extra.

Automatic Updates
More than 30% of all websites worldwide currently run on WordPress. Many websites are hardly or not updated by their users. This makes WordPress a favorite target for hackers.
To keep your website safe, it is therefore of utmost importance that you regularly update the software used. Managed WordPress hosting ensures that the security updates of WordPress are automatically executed automatically. So you know for sure that you are already safe for the most famous and dangerous leaks in WordPress itself.
Not only WordPress core but also the plugins used need to be updated regularly. These are things that can usually be ordered as an option in a corresponding maintenance package.
Such a maintenance package is more than pushing the update button. Your website is always a combination of software written by different people and companies. It is important that everything is tested after updating. You would not be the first where it appears that the contact form has not worked for months.
Support with knowledge
Managed WordPress hosting is offered by companies that know WordPress through and through. Often WordPress is the only system that they offer and they are busy with nothing else than WordPress every day.
It goes without saying that if you have WordPress related questions or problems, you are at the right address with such support.
Uptime of almost 100%
Uptime of almost 100% is a reality at many managed WordPress hostings. Just because everything is tweaked and tailor-made for running a WordPress website, the server will not get into trouble.
Scalability

A number of providers of managed WordPress hosting make it possible to view your website temporarily or permanently more space and server power to give without your website going offline.
This can be useful if you temporarily expect more visitors because of, for example, a big action that you do.
The alternative would be to completely move your website to a different and better server. The chance of errors and downtime is exponentially greater in this case.
price
It goes without saying that all extras of a managed WordPress hosting come with one slightly higher price tag. But the price tag itself can be very good and ultimately under the line you can afford more than a cheap shared hosting.
Fast loading times ensure satisfied visitors. Satisfied visitors are less likely to click away and you will be converting more customers under the line.
Once you have been hacked, you know what it can cost you to make your website healthy by a professional. By paying a little more for your hosting you reduce the risk of hacking drastically.
If you are serious about your website, you understand that the slightly higher price can bring a lot of added value for your website and for your peace of mind.
Not all plugins are allowed
You build your website and you use 101 plugins to achieve your goals, but what you forget is that not all plugins are equally good for your website.
How is the plugin encrypted? Does the plugin follow the latest WordPress standards? Is the plugin updated? Does the plugin slow down the loading speed? Are all plugins that you use compatible with each other?
A managed WordPress hosting often uses one list of prohibited plugins. These are plugins that you simply can not or can not install. You certainly should not see this as a limitation. On the contrary, it is a plus that your website is pointed out at the weak points.
Not for all types of websites
It goes without saying that a managed WordPress hosting is not optimized for running a Drupal or Joomla website. You can get a managed WordPress hosting if you have a WordPress website that you want to perform at top level.
Conclusion
As far as we are concerned, you can opt for a shared hosting if you do not plan much online. If you are really serious about your project and you want to score online, then you can not miss out on the added value that one managed WordPress hosting you will bid.